Day six! All on Española Island.
We did a 7:30 kayaking session where we got pretty close to some sea lions (they seemed to be playing with some of the other kayaks in our group), a sea turtle and some swimming (from rock to rock) marine iguanas.
In theory there's a timelapse of this kayaking outing. I haven't put it together yet though.
Afterward, we lazed around on the beach… (Bahia Gardner)


There were a bunch of sea lions. Including this one that rolled itself in sand.

A lizard that apparently grew a new tail at some point.

A beach?

And a whale skeleton that had been left there. And, I assume, positioned.
I snorkeled out from the beach, and there weren't many fish, but there was a family (one big one, two small ones) of stingrays. I swam awayyyyy when they seemed to notice me. (I didn't wear flippers. I felt slow.)
In the afternoon, we did a "long" walk around Punta Suarez.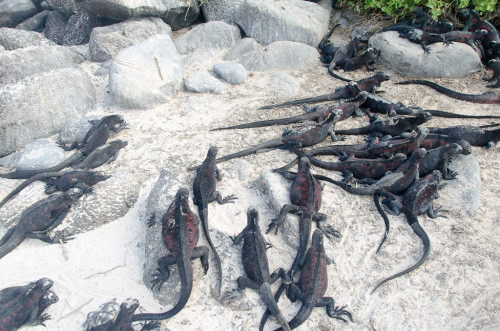 As soon as we got off the zodiac, there were marine iguanas everywhere.

And a bird. I'm not sure what kind.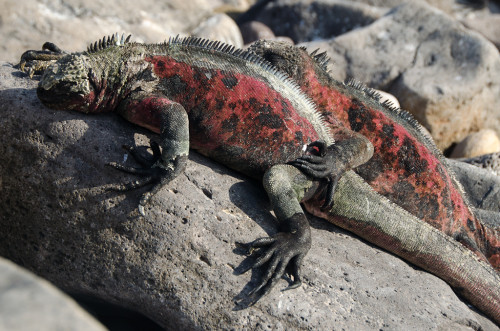 The iguanas cuddle! (probably for warmth… but still)

A lava lizard hanging out on a rock.

The view? Lots of rocks. Spot the sea lions.

Here are some rocks on the beach. The texture reminds me of beef stew meat. Right when it's almost raggedy.

A Galapagos albatross! Also known as the waved albatross.

Another albatross. Their heads are such a rich creamy color.

And they do a hilarious mating dance. They fence, then head bob, then fence some more.

More view. On the left side, our guide, Yvonne Torres.

A juvenile Galapagos hawk. SO ROUND.