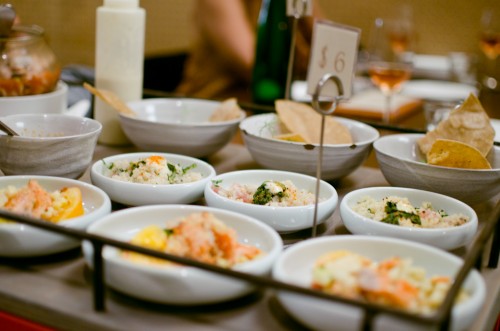 State Bird Provisions serves most of it's food dim sum style — on carts that are pushed around.
State Bird is super, incredibly popular right now. Shamiq and I were lucky to get a table in September and I'm going back tomorrow! It seemed like a good time to revisit what I ate last time and do something with the pictures…
Avocado something, tortilla chips, seafood salsa
Salmon & corn salad with heirloom tomatoes. I really liked the flavor combination in this dish.
Guinea hen dumplings in broth. Good, but very mild. Probably the dish that stood out to me the least.
Fried bread with burrata, one cannot go wrong with carbs and fat.
Short stack: corn pancakes, garlic chives, mt tam. I'm stealing this flavor combination.
Cocoa nib flatbread, chantrelle paste, cured yolks. This was magic. I've since tried to cure my own yolks, but I have no hope of recreating the flatbread or the chantrelle paste. Must go back.
State Bird with Provisions. I guess this is the dish they're named for. It was good, but not as good as some of the other dishes. I propose they rename themselves to "Short Stack," or "Magic Flatbread with Stuff."
Steak tartar with shishitos.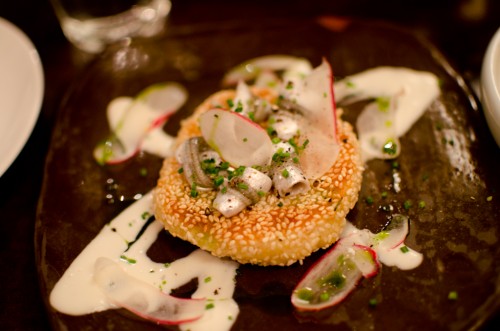 Yeasted sesame pancake with bocalones.
Fried eggplant with avocado aioli. I love eggplants.
Japanese cheesecake with strawberries and tomatoes. Good, but paled in comparison to…
Fig ice cream sandwiches of amazingness. I think it's both the flavor combination and being really, really well made.
Favorite dishes: Salmon + corn, Flatbread, Short stack & Ice cream sandwiches
Total cost for two, ~$110 (all of the above + a $6 pot of tea)