Last Saturday, I had dinner at Omakase. We did the Yamato Omakase: 2 appetizers, 2 sashimis, 12 nigiri, 1 yakimono and 1 owan.
I didn't take great notes (or photos, really) while eating, so my descriptions are pretty vague…

Ball of fish over rice. One mouthful of nom.

Smoked some-sort of fish (trout, I think?) marinated with tomatoes

Sashimi! with fresh wasabi. Lobster on the right.

Japanese abalone with abalone liver sauce. These abalone are much more flavorful than the abalone I've had recently at other Japanese restaurants. Also, wonderful sauce. Even when eaten off of chopsticks.

Lobster and geoduck sashimi. I really like geoduck sashimi. I wonder if I can do this myself at home…

akamatsu, black sea perch

hokkaido sea scallop. zomg, I generally don't like scallops, but this one was all sorts of creamy and delicious.

hirame something cured with kelp. (Japanese fluke)

alaskan wild king salmon. i love salmon, and this one was amazing.

golden big eye snapper. This one was torched a little bit before serving. I'm not a huge fan of skin-on nigiri

Marinated tuna. Pretty good. Fatty but not super fatty.

Hokkaido uni with house cured ikura (over rice). I found the ikura a little salty, but the Hokkaido uni was amazing — no fishiness at all, and very creamy.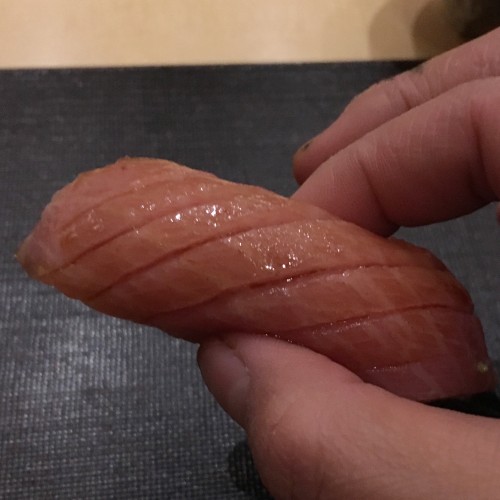 otoro.

puri. lightly smoked wild yellowtail. interesting, and smoky. (surprise)

aji. Japanese horse mackrel. Skin on, not a huge fan. A little fishy — good, but not my type of fish.

Japanese mackrel with caramelized sugar. Once again, not a huge fan of skin-on, but the caramelized sugar made this bite really interesting. And it magically paired pretty well.

otoro, slightly torched. NOM NOM NOM. How can you go wrong with otoro? Additionally, I really liked the slight sear — made it seem even more fatty.

tamago. A soft and custardy tamago — much lighter than most tamagos.

Wagyu beef, brocollini, japanese mayo, peppercorn sauce and truffle salt. I was so excited to eat this that the picture is a blurry mess. It was, not surprisingly, delicious — but a slightly too-large portion for me, after all that fish. I couldn't handle much more rich food.

Lobster and mushroom broth. I don't think I had reasonable judgement at this point in the meal. I would have preferred a lighter broth at this point.
Overall — the food was great (Even for the types of fish I generally don't like) and it was a fun experience to sit at the counter and see the chef in front of you prepare your food. However, for $200 a person, I think it's a little steep. I'd happily do the shorter menu ($150) if I could pick which nigiri. Sign me up to eat the salmon, tunas & uni again.